DAZ 3D - Community for Poser
DAZ3D bring 3D art directly to the masses by delivering the highest quality digital 3D content and software, originated as the Poser-production division of Zygote Media Group,Inc., in Provo, Utah where the content included within Poser 3 and 4was born, continuing effort at creating realism and diversity in every figure DAZ makes, and a commitment to providing excellent service and support. DAZ3D inspire 3D fans to Unleash the Artist Within. Also offers premier 3D software programs such as Bryce 5 (a 3D environment package), Mimic Pro (a 3D lip-sync program), and DAZ Studio (a 3D posing application) all at rock-bottom prices.


Daz developed the
Millennium Woman
Victoria and the
Millennium Man
Michael figures. With a tremendous positive response from the Poser user base, DAZ gained a strong reputation as the premier source for Poser oriented digital content. In December of 2000, DAZ branched off from Zygote, and became a freestanding corporation. In January 2001, DAZ Productions opened its first e-commerce website with 159 products. DAZ has built a business by creating 3D digital content at affordable price points offered to the public via an online store. DAZ also works closely with third party artists and offers an online publishing program through which these artists can make their own creations available to the DAZ customer base.
The company now sells over 3,000 products to a constantly growing group of customers, has a variety of software solutions
designed
to expand the market for digital content, including the increasingly popular
DAZ Studio
software application.
DAZ Studio
removes the barrier to entry for newcomers to the 3D industry, as it is offered free of charge.
DAZ Studio
provides an environment where users may take their favorite 3D assets.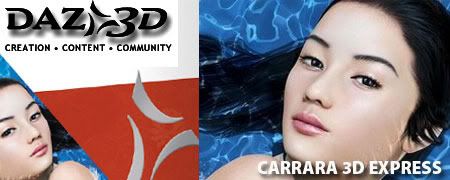 WithDAZ, hopes to reach new industries and individuals that would otherwise be excluded. DAZ continues to focus primarily on creating digital content, and only develops items that help increase the demand for future DAZ digital content. With this in mind, continually develops new versions of their popular Millennium figures, as well as developing relations with the most successful third party content creators.
More article about DAZ3D :
http://artvisualizer.blogspot.com/search/label/DAZ3D