Art Deco
Art Deco experienced a decline in popularity during the late 30s and early 40s, and soon fell out of public favor. It experienced a resurgence with the popularization of graphic design in the 1980s. Art Deco had a profound influence on many later artistic movements, such as Memphis and Pop art.

Art Deco was a popular international art design movement from 1925 until 1939, affecting the decorative arts such as architecture, interior design, and industrial design, as well as the visual arts such as fashion, painting, the graphic arts, and film. At the time, this style was seen as elegant, glamorous, functional, and modern.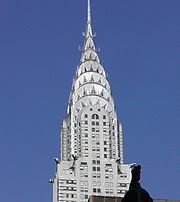 Surviving examples may still be seen in many different locations worldwide, in countries as diverse as the United Kingdom, Spain, Cuba, Indonesia, the Philippines, Romania, New Zealand and Brazil. Many classic examples still exist in the form of architecture in many major cities. The Chrysler Building, designed by William Van Alen, is a classic example of this, as it is one of the most notable examples of Art Deco architecture today.

The structure of Art Deco is based on mathematical geometric shapes. It was widely considered to be an eclectic form of elegant and stylish modernism, being influenced by a variety of sources. Among them were the so-called "primitive" arts of Africa, Ancient Egypt, and Aztec Mexico. It also drew on Machine Age or streamline technology, such as modern aviation, electric lighting, the radio, the ocean liner and the skyscraper for inspiration. It is in streamline modern styles that this technology fully manifests itself and, although it is not antithetical to Art Deco, it is now considered to be a separate architectural style.

The movement was a mix of many different styles and movements of the early 20th century, including Neoclassical, Constructivism, Cubism, Modernism, Art Nouveau, and Futurism. Its popularity peaked in Europe during the Roaring Twenties and continued strongly in the United States through the 1930s. Although many design movements have political or philosophical roots or intentions, Art Deco was purely decorative.

Terracotta sunburst design in gold behind sky blue and deep blue above the front doors of the Eastern Columbia Building in Los Angeles Art Deco design influences were expressed in the crystalline and faceted forms of decorative Cubism and Futurism. Other popular themes in Art Deco were trapezoidal, zigzagged, geometric, and jumbled shapes, which can be seen in many early pieces. Two great examples of these themes and styles are in Detroit, Michigan: the Fisher Building and the Guardian Building.